Dear Intsikelelo Supporters,
Thank you for being a part of our work in South Africa. This update will give an overview of what we've been working on in 2018, as well as a deeper dive into the community-centered philosophy behind all of our projects.
Our mission is to improve the lives of vulnerable children in South Africa by developing and supporting community-driven initiatives. We work directly with vulnerable individuals, families, and community-based organizations to design and launch impactful initiatives together. Our approach is based on a fundamental belief that local community members hold the insights needed to uplift their communities. Our goal is to provide a platform of tools and resources to empower these community leaders and locally-led initiatives with support from around the world.
From this process, a number of Intsikelelo projects have emerged and matured this year, including:
This update will present a closer look at these projects, and we hope you enjoy learning more about the positive impact you've helped create.
As always, please reach out if you are interested in learning more about our work or how you may get involved.
Thank you for being a part of Intsikelelo and taking action to empower vulnerable children. Your support has transformed these individuals' lives.
Sincerely,
Chris, Nick, and Nokwanda Grava
Conducting Community Research to Inform Our Work
Our projects are based on research that helps us better understand the challenges and opportunities facing vulnerable individuals and communities. Currently, there is a lack of research on parenting in African countries and cultures, and existing research primarily uses paradigms from Western research to describe African parenting. Similarly, other nonprofits often approach interventions and projects from a Western perspective, which leads to ineffective projects, inefficient use of funds, and further damage to the local indigenous cultures. We believe that charitable work should be informed and led by the community, and academic research must be informed by individuals from within the culture. This allows for culturally-informed, research-backed community work that is more effective and respectful to local cultures.
Our research has been led by Nokwanda Grava, our Research Director. Nokwanda is in a truly unique position to lead this research from the perspective of an insider. She grew up in an urban Zulu community named KwaMashu in KwaZulu-Natal, and she later attended high school in a rural Xhosa community in the Western Cape. She is fluent in Zulu, Xhosa, Swati, Sotho, and English. She then put herself through technical school at Cape Peninsula University of Technology in Cape Town, earned a bachelor's degree in Psychology from the University of South Africa, and is now in her final year at Michigan State University earning a Master's degree in Child Development. These diverse experiences equip Nokwanda to bridge cultural gaps and collect insights about traditional values through contemporary research methods. This research will eventually be published with the help of Michigan State University, providing a resource to help us and others design more effective, culturally relevant interventions for vulnerable children in South Africa.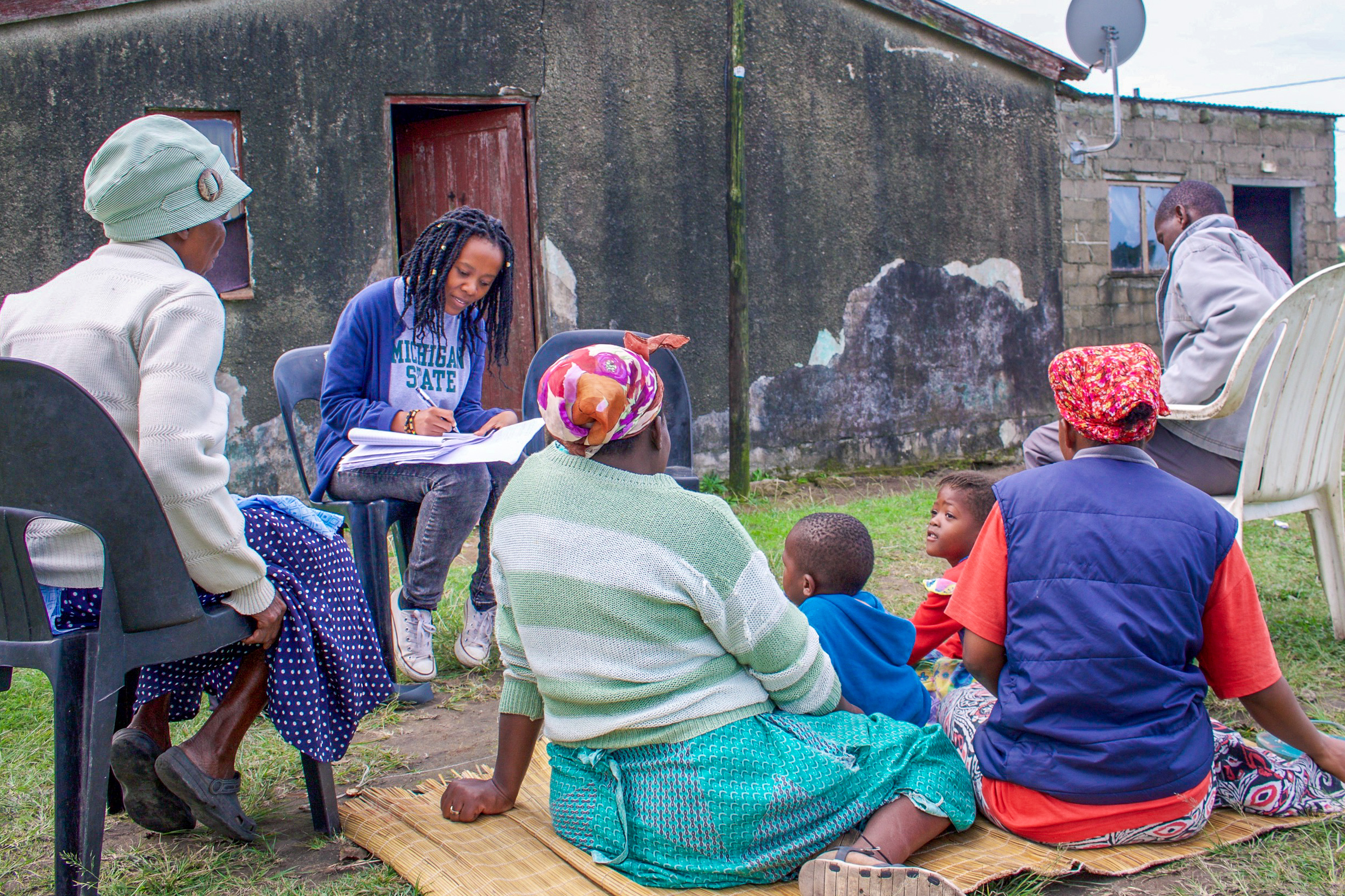 This year, Nokwanda has directed new Institutional Review Board (IRB) approved research for Intsikelelo in the Eastern Cape and KwaZulu-Natal provinces of South Africa, gathering extensive qualitative data on parenting styles of indigenous tribal communities. For this research, Nokwanda conducted over 46 hours of in-depth, long-form interviews with 68 parents and grandparents in communities including Langbos, KwaMashu, and Mhlubulweni . This research was conducted in the local languages (isiXhosa in the Eastern Cape and isiZulu in KwaZulu-Natal), helping to capture perspectives and insights that are challenging to access and thus underrepresented in Western research. This study employs a social constructivist epistemology, as the goal is to understand parenting through the eyes and lived experiences of parents and elders.
Nokwanda was also invited to present at the 16th Annual World Association for Infant Mental Health (WAIMH) this year in Rome, Italy. WAIMH promotes education, research, and the study of the effects of mental, emotional and social development during infancy on later normal and psychopathological development (www.waimh.org). Along with other masters students, Nokwanda presented on toddler language development and led interactive workshops on infant mental health, behavior, and development. Nokwanda is currently researching Zulu and Xhosa parenting values, which will help Intsikelelo and the broader academic and nonprofit communities structure more culturally aware and valuable interventions.
As a reminder, Nokwanda previously led community research for Intsikelelo in 2015 that collected qualitative and quantitative data from over 450 residents of Langbos. We have also worked jointly with other graduate students conducting research. Last year, we hosted Ryan Thompson, a medical student from New York University School of Medicine, who conducted a health needs assessment of the Langbos community to help us design more effective health interventions. We are also currently working with a PhD candidate at the University of Pretoria, who is using the Langbos Children's Shelter construction as a case study in her research regarding Regenerative Design.
These research initiatives are an essential part of our work, as they help us tap into community insights and design more culturally empathetic and effective interventions. They also help amplify our impact by sharing the lessons we've learned with others around the world.
If you are a researcher or graduate student interested in working with Intsikelelo, please reach out to Nokwanda at nokwanda@intsikelelo.org.
Supporting the Langbos Crèche to Empower Vulnerable Children and Families
Since 2015, we have worked directly with the Langbos Crèche, a preschool located in the heart of the Langbos community in the rural Eastern Cape. Langbos is an undeveloped "informal settlement" with no formal housing, running water, roads, or electricity. Limited access to effective healthcare has left Langbos residents with high levels of chronic diseases like HIV and TB, and limited educational and professional opportunities have resulted in high levels of unemployment, crime, and violence in the community. Langbos children are deprived of many opportunities in life, often including the mere chance of a healthy physical and mental development. Fortunately, the Langbos Crèche is dedicated to serving and protecting these children, and our partnership has allowed us to collaborate directly with Langbos families and support the healthy development of the youngest and most vulnerable residents of Langbos.
We currently sponsor daily nutritious meals for approximately 30 vulnerable children who attend the preschool every weekday. Since 2016, we've sponsored over 18,000 of these meals, which provide a nutritional foundation for children's physical and mental development. We also sponsor e'Pap, a fortified porridge developed specifically for malnourished and sick individuals.
We strive to empower the teachers and staff of the Langbos Crèche. Since 2015, we've worked directly with teachers Gloria and Nolunwabo, as well as Headmistress Nomthandazo to help the staff accomplish their goals for the children and preschool at large. We helped the crèche earn its first funding from the South African Department of Social Development in 2016, as well as strengthen its network of local and international sponsors. We've also supported the staff with financial literacy training, transportation, teaching supplies, and curriculum development.
This year, we've begun sponsoring the monthly wage of a community staff member named Mkhize, who serves as the groundskeeper for the school and community garden. Mkhize also mentors young men in the community who serve as volunteers in maintaining the community garden, playground, and facilities of the Langbos Crèche. This initiative was made possible through fundraising by Davis Wadley and his friends and family.
We are grateful for the Langbos Crèche and its shared commitment to educating and empowering vulnerable children. It is a privilege for us to work alongside dedicated community members like Nomthandazo, Gloria, Nolunwabo, and Mkhize, as well as the ever inspiring children of Langbos.
If you are interested in donating to fund nutritious meals or other needs at the Langbos Crèche, please visit www.intsikelelo.org/creche. Monthly or quarterly automatic giving is also available to support the Langbos Crèche on an ongoing basis.
Creating Educational Opportunities for Promising Students
In our work, we often encounter promising children and young adults who have been deprived of opportunities to continue their education due to circumstances beyond their control. Harsh circumstances such as growing up in an abusive household or confronting the death of one or both parents can cause children to drop out of school. In such dire circumstances, failing to complete school severely limits these children's future potential and opportunities in life. By helping young dropouts re-enroll in school, and by helping high school graduates pursue further educational programs, we can intervene in a defining moment of these individuals' lives.
This year, we've successfully re-enrolled 9 children who had dropped out of primary school. We are currently researching ways to expand this effort and provide more support for struggling parents and students in vulnerable communities.
We also work with high school dropouts and graduates to help them re-enroll in school or pursue further educational opportunities. Though seemingly straight forward, this process can be wrought with individual hurdles and challenges that require extensive support and guidance. This can include organizing meetings with school administrators, transporting children to schools, facilitating admissions tests, completing and mailing school applications and financial aid paperwork, and acquiring application materials such as government I.D. documents and school records.
We've spent countless hours helping candidates in these positions overcome such hurdles to reach new opportunities for continuing their education. Once an opportunity is secured, we sponsor the student's financial needs and continue to support and mentor the student through their educational program. In the case of college and university students, these candidates are typically the first in their family (or community) to attend such a program. As such, guidance, support, and mentorship through regular and continued communication are crucial factors for their success.
As you may remember, last year we sponsored a young woman named Asanda to attend the South Africa College for Tourism. Asanda was not only the first person in her family to attend college, but the first woman in her entire community to do so. She embraced the opportunity with bravery and conviction: Not only did she successfully complete her program, but she finished #1 in her class and earned a paid internship and opportunity to work abroad in Europe as a result. Asanda has shown how even just one opportunity can transform someone's life with new potential, and we are honored to support her studies.
Asanda's experience has also inspired younger children in her community to pursue college educations. Asanda continues to work with us to advise younger candidates with their applications and transitions into student life. Already, she has helped us recruit and sponsor 2 young women from Langbos to attend the South Africa College for Tourism this year. These two students, Charmaine and Lindelwa, are being trained in Hospitality and Tourism, which will allow them to find employment in South Africa's tourism industry or even abroad. We are also sponsoring two young men from Langbos to attend college programs this year: Given and Sinathemba are studying animal identification and tracking at the Tracker Academy, which qualifies them to work in South Africa's many game reserves— including the nearby Addo Elephant Park.
This year, we are also proud to celebrate the graduation of another young woman we have sponsored since 2014, Sanelisiwe, who recently earned her bachelor's degree from the University of the Western Cape (UWC). She is currently completing her Honours degree at UWC, and she has also earned a spot in the competitive Mellon Mays Undergraduate Fellowship. This Fellowship sponsored Sanelisiwe to visit Emory University in Atlanta, Georgia in 2017, and it also provides her with additional support and academic mentorship. In 2018, Sanelisiwe also received the UWC Flagship Fellowship to help support her during her Honours year.
We are incredibly proud of the students we have sponsored and all they have achieved for themselves, their families, and their communities. These education sponsorships are truly life changing, and we look forward to sponsoring more students in the future.
If you are interested in supporting these students and their educations, you can make a donation that will go toward needs like school supplies, personal hygiene products, and transportation. Learn more and set up a one-time or recurring donation at www.intsikelelo.org/education.
Completing the Langbos Children's Shelter to Build a Platform for Empowerment
2018 has been an exciting year for The Langbos Children's Shelter, known affectionately as the "Langbos Domes," as finishing touches of our construction have reached completion. As a reminder, last year we constructed the Langbos Domes as an infrastructure addition to the Langbos Crèche and Langbos Community Centre. This facility will serve as a multipurpose platform to launch a variety of youth-centered initiatives and interventions.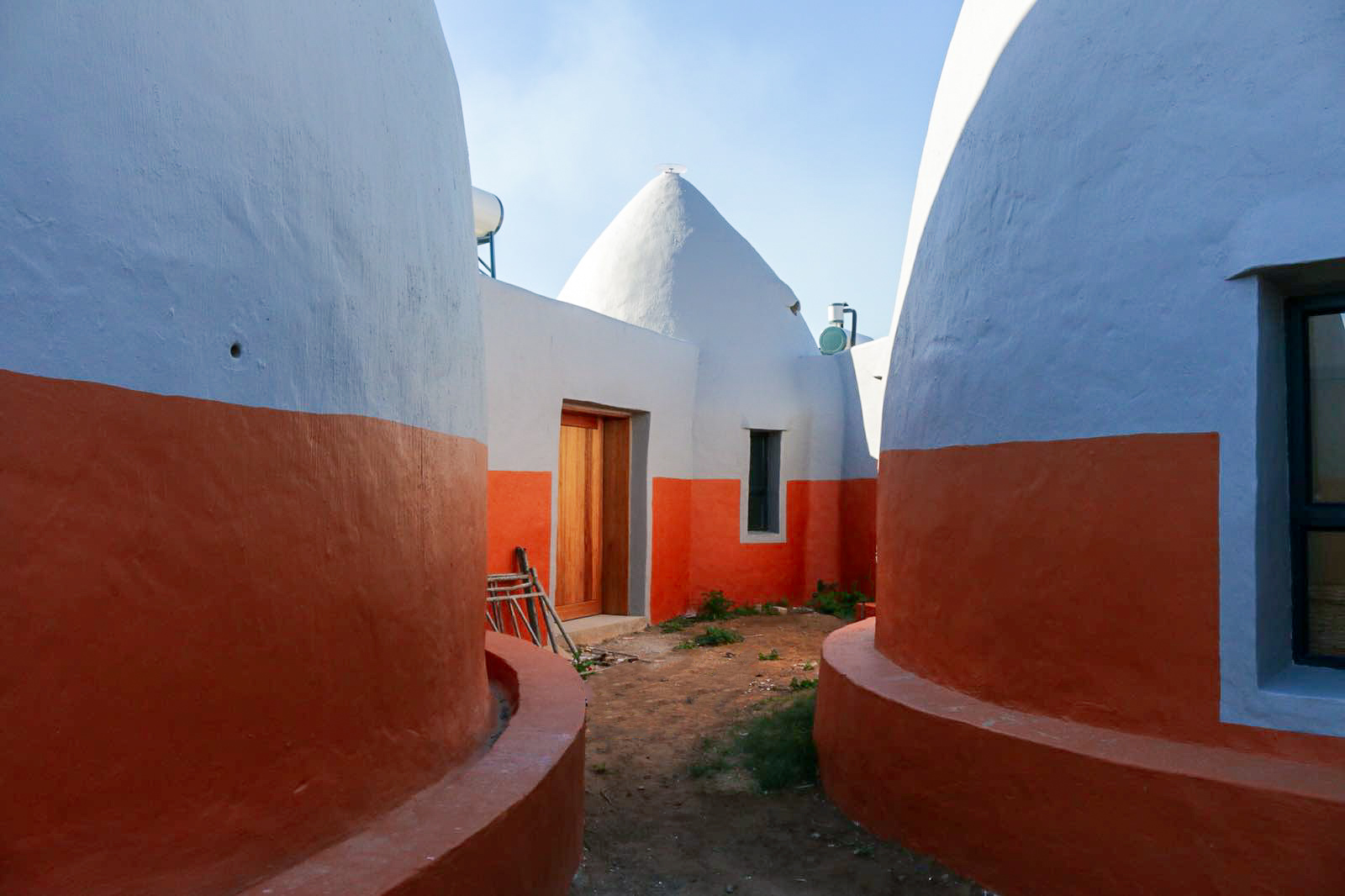 In constructing the center, we utilized an alternative "eco-building" method called Superadobe as a way to involve the local Langbos community and make the most efficient use of our limited material resources in Langbos. Superadobe is a simple building method that uses local soil mixed with a small amount of cement to build beautiful and strong dome structures based on simple geometry and engineering principles. Superadobe integrates traditional earth architecture with contemporary global safety requirements and has been endorsed by the United Nations as well as awarded the prestigious Aga Khan Award for Architecture (California Institute of Earth Architecture).
Using Superadobe allowed us to recruit and train an all-local team in Langbos to carry out this construction project. As a result, we were able to create jobs and skills training, provide daily nutritious meals to everyone involved, and connect with community members while giving them ownership of the project. Together, 30 Langbos residents came together for over 35,000 paid hours of collaborative work to build this unique structure.
This team of "community builders" included men and women of all ages working together to learn new skills and overcome challenges throughout the project. Aside from a competitive wage and the satisfaction of uplifting their community, they were also provided with health support and professional development, including free trips to the local clinic and CV writing. Some team members saved up their earnings during the project to purchase their own truck, which allowed them to take on and complete another paid Superadobe project to build an outdoor classroom for a nearby school. Others have also continued to stay involved with Intsikelelo projects— helping us conduct our community research, partaking in our education sponsorships, and continuing to work in various community-focused roles at the Langbos Crèche and Care Centre.
This year, our construction has moved through its final stages of completion. We've completed plastering, waterproofing, painting, tiling of bathrooms, installation of doors, windows, plumbing, electrical components, and solar power. We've just completed the construction of a staircase and balustrade for the upstairs loft area of the largest dome, and the very last finishing touches of furniture installation and interior design are currently underway.
The structure has a cutting-edge off-grid design, necessary in Langbos to overcome the resource-scarce, undeveloped setting. The Domes use solar panels for electricity and water heating, as well as a unique gutter and underground tank system to harvest rainwater. Greywater from the Domes is also directed into the community garden. The dense, monolithic Superadobe walls also provide high thermal mass to aid in natural heating and cooling, keeping the domes warm in winter and cool in summer.
Last year, our innovative design was featured as the cover story of Earthworks magazine, a leading sustainable architecture publication in South Africa, as well as a variety of other publications including The Herald and Mawazo Africa. This year, our design was featured online by Design Indaba, a world-renowned international design conference that takes place in Cape Town every year.
It is very exciting to be completing construction and preparing to launch programs within the Domes soon. Rather than an "orphanage" focused on a small number of residential children, the Langbos Children's Shelter will function as a multipurpose center for a variety of initiatives designed to benefit the entire Langbos population. Our community meetings and community research have consistently revealed the need for programs addressing school dropouts and new initiatives to foster academic success and create positive opportunities for Langbos children. The Domes will provide a unique space for a variety of impactful initiatives to address these needs, and we are currently working with community leaders in Langbos to design and plan these programs.
Beyond this, the Domes stand as a monument to community and a reminder of what Langbos residents achieved through their own dedication and teamwork. More broadly, the sustainable, community-driven design represents the potential for innovation and collaboration to transform communities.
The project also relied on a massive effort of collaboration between many compassionate individuals around the world. This included Superadobe teacher Quintin Christian, who studied at CalEarth, trained our local team in the Superadobe method, and managed the Superadobe component of our construction. Quintin has started his own nonprofit Eco Domes Africa that is continuing this mission to empower communities through Superadobe. Our design was created by award winning Port Elizabeth architects Jason Erlank and Ashleigh Basson, as well as prominent structural engineer Rigo Govoni of Structural Solutions. The project was funded by hundreds of donors around the world through an online crowdfunding campaign in partnership with GoPro, together raising over $150,000. This campaign was made possible through the generosity and creativity of the GoPro for a Cause team at GoPro and many other compassionate individuals who helped us fundraise around the world. This included the Rockhurst High School class of 2018, the Windy City Ball 2015 organizers and attendees, and the Project 33 runners and donors. We would also like to thank Tom Beeler who has been an incredibly generous donor and invaluable advisor to our organization. We have also been fortunate to collaborate with many generous individuals and local companies in the Eastern Cape, including Aluminium Purpose, Scribante Concrete, ANSO Aluminium, Chris Howes Construction, Citrus Growers Association of South Africa, Sika South Africa, Bayview Construction, and the Mayibuye Ndlovu Development Trust. Most of all, this project was made possible by supportive individuals around the world making personal donations and finding their own unique ways to get involved.
This project also accomplished a broader goal of providing a positive contribution to the field of sustainable design and development. Our story has already being shared to over 1 million viewers online through outlets such as GoPro, Earthworks, and Design Indaba, and our construction is also being used as a case study in Regenerative Design by a PhD candidate at the University of Pretoria. We are also currently working on new video content that will document even more of the construction process and details of our unique design.
We are incredibly excited for the Domes' youth-empowering programs to launch later this year, and we are likewise endlessly grateful to the people who made this project possible— both in the local community and around the world.
If you are interested in learning more or donating toward programs at the Langbos Children's Shelter, please visit www.intsikelelo.org/shelter.
Our Philosophy in Action
It's incredibly fulfilling to put our community-driven philosophy into action alongside ambitious students like Sanelisiwe and passionate community leaders like Nomthandazo and the staff of the Langbos Crèche. In every struggling community, there are parents, elders, and community leaders who have dedicated their lives to uplifting their families and communities. Intsikelelo is founded on a belief that these local community leaders— who face the challenges of poverty day-in and day-out— hold the insights to solving the social problems around them. These are the people we seek to learn from and work alongside. We are here to embolden and support these individuals on their journey to overcome dire circumstances and achieve greatness for themselves and their communities.
All of our projects are connected by this underlying philosophy. When we support the children and staff at the Langbos Crèche, we are doing our part to ensure the healthy development of vulnerable infants who may otherwise be deprived of a fair chance at a healthy life. When we help teenagers re-enroll in school or apply to tertiary programs, we are creating opportunities for these young adults who have been deprived of chances to succeed academically. And when we conduct research in impoverished, neglected communities, we help give a voice to communities who have been ignored and neglected.
Though our projects vary at a surface level, they share the same fundamental principles and goals: listening and learning from locals about the challenges and opportunities around them, and including them in the design and implementation of projects to uplift and empower their communities. We also do our best to share the lessons of our work with a global community, and likewise share the opportunity for individuals around the world to get involved and directly fund these localized efforts.
These projects depend on collaboration— not just with our beneficiaries, but with individuals around the world who make this work possible. We hope to provide meaningful opportunities for individuals like you to empower others and make a real difference in their lives.
Thank you for embracing this opportunity, and we hope that you will continue to stay involved in our work.
To keep up with our progress, please consider joining our newsletter or following us on Facebook and Instagram.
As always, reach out any time to learn more about our work and opportunities to get involved.
If you enjoyed this update and would like to directly help fund these programs, please consider making a one-time or recurring donation via the simple form below. Thank you for your support.